Make the most of your camping holiday in Vendée and discover the whole region by bike! Vendée has breath-taking landscapes and over 1.100 miles of cycle paths, the perfect combination for adventurous holiday-makers. Rent a bike at the five-star campsite La Garangeoire and explore Vendée!
Major cycling paths in Vendée
Vendée has many cycle paths, which will please both sporty tourists seeking new challenges and people looking for a more peaceful activity. In either case, you will wind between salt marshes and verdurous forests while following the Atlantic coast of France and its lovely beaches.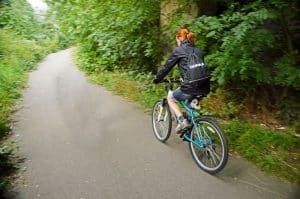 Voie verte: Vendée's walking and cycling path
The Voie verte, a 75-mile-long walking and cycling path, is perfect to visit Vendée on foot or by bike. It will let you explore Vendée's typical landscapes -forests, marshes, vineyards and charming villages. It connects different villages such as Les Sables d'Olonne, Saint Gilles Croix de vie, Saint Jean de Monts and Challans.
Be aware that on some sections, other vehicles are permitted. These sections are mainly small roads or paths used by farmers and are usually very quiet. However, you will have to be careful since other vehicles can sometimes use the Voie verte.
Vélodyssée: 130 miles of cycle paths following the coast
You can also take the section of Vélodyssée that is crossing Vendée. Take this cycle path to admire mind-blowing coastal landscapes as it follows all the Atlantic coast from Roscoff in Brittany to Hendaye in the Pays Basque. It is also possible to travel between Bretignolles-sur-Mer and Les Sables d'Olonne using Vélodyssée.
Cycle tours near the campsite La Garangeoire in Vendée
Let's discover the cycle tours you can enjoy from our campsite located in Vendée.
From Saint-Julien-des-Landes to Bretignolles-sur-Mer
Enjoy a ride to Bretignolles-sur-Mer and discover the village, the museum of Vendée Miniature and maybe go for a swim and explore the beaches. On you way there, take a break to discover the charming Lac de Jaunay or the lovely village of La Chaize Giraud.
Departure: Aire de loisirs des Fiefs des rainettes in SAINT JULIEN DES LANDES
Arrival: Aire de service du Marais Girard in BRETIGNOLLES-SUR-MER
Around 12 miles in 1 hour
Head for Les Sables d'Olonne
Carry on your trip to Les Sables d'Olonne and take a break in Brem-sur-Mer. Go for a walk in La Gachère, a neighbourhood that looks like a marine village with its narrow streets and whitewashed houses. Keep going…
Welcome to Les Sables d'Olonne! Do not miss this famous place of Vendée. It is a touristy holiday spot where you can enjoy all kind of activities with your friends or family- exotic zoo of Les Sables, neighbourhood of the Île Penotte or the Château des Aventuriers.
Around 12 miles in 1 hour
Price of bike rental in our campsite
In our campsite, you can find all types of bikes to go cycling around Vendée. Do not hesitate to ask reception for the prices. We will be delighted to recommend the best cycle tours in Vendée according to your level.
After effort comes comfort!
After so many miles on your bike, it is time to rest in your gite or mobile home! Our campsite in Vendée is quiet and surrounded by nature- the perfect environment to recharge your batteries before your next bike trip. Cool down after a day under the sun of Vendée around the swimming pool and the lagoon.